DIPLOMA
Certificato "LEONESSA D'ITALIA"
AWARD  "LEONESSA D'ITALIA"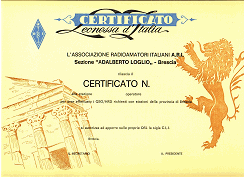 La SEZIONE A.R.I. DI BRESCIA rilascia il CERTIFICATO "LEONESSA D'ITALIA" a tutti gli OM e SWL che spediranno il LOG comprovante i contatti avvenuti con stazioni di Brescia nel seguente modo:
PER STAZIONI ITALIANE: 15 DIFFERENTI QSO/HRD
PER STAZIONI EUROPEE: 10 DIFFERENTI QSO/HRD
PER STAZIONI EXTRAEUROPEE: 5 DIFFERENTI QSO/HRD
Sono ammessi tutti i modi e bande eccetto i QSO via ripetitori. I log dovranno essere inviati all'indirizzo mail aribrescia@tin.it. o per posta  ARI BRESCIA Via Maiera, 21 – 25124 Brescia. Dovranno contenere eventuale richiesta particolare (ES.: singolo modo  SSB – CW-  modi digitali, singola banda, QRP ecc.) Non sono richieste le qsl di conferma. La stazione di Sezione IQ2CF ha valore di 3 qso e potrà essere collegata una sola volta. Il diploma verrà inviato in formato PDF. Nel modo CW non è ammesso l'uso di sistemi di decodifica automatici.
Detta la Leonessa d'Italia per il coraggio dimostrato nel corso delle 10 giornate di insurrezione agl i Austriaci   21 marzo – 1 aprile 1849, Brescia vanta un'antichissima storia che l'ha vista protagonista in diverse epoche: romana, longobarda, comunale, rinascimentale, risorgimentale.  La città conserva testimonianze e pregevoli monumenti di ciascuna di queste fasi storiche.
* * * * * * **
The Brescia A.R.I. Radioclub issues the Award "Leonessa d'Italia" to any Amateur Radio  or SWL by sending in a log extract certifying QSOs with Brescia Ham stations as follows:
–          Italian stations:           nr. 15 different QSO/HRD
–          European stations:      nr, 10 different QSO/HRD
–          All other stations:       nr. 5 different QSO/HRD.
A QSO with the Brescia radioclub station, IQ2CF, is valid as 3 different QSOs and may be logged only once. All modes and bands are permitted with the exception of QSO through repeaters and CW automatic decoding systems.The log shall be sent to the radioclub e-mail address aribrescia@tin.it  or, by mail, to: ARI Brescia – Via Maiera, 21 – 25124 Brescia – Italy.
The log shall also specify any particular request as: single mode SSB – CW – Digital modes, single band, QRP etc.
QSLs confirming the QSOs are not required.
The Award will be forwarded in PDF format.
Brescia is known as the Lioness of Italy (Leonessa d'Italia) after ten days of popular uprising against Austrian rule during the Spring of 1849, 21 March to 1st of April. The ancient city of Brixia, has been an important regional centre since pre-Roman times. The city preserves a number of monuments and buildings of Roman, medieval and other historical periods, among which the prominent castle is dominating the city.